SXSW 2015 Day 4
17
Mar
2015
It was a good day…Sunday Slump survived!
Up first was "Behind the GIF: The Future of Online Visual Culture." We all know GIFs. Here: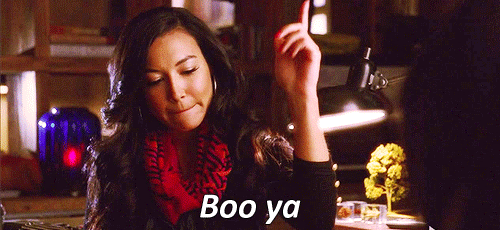 As one panelist put it, GIFs are "the new video format going backwards." People do not have time to watch things stream, y'all. They don't have 3 minutes for your video. They don't want sound interrupting their crowded public transportation commute or their music on their headphones…so GIFs are very short form content easily consumed, and that is all we the public want…short and easy. The average scene in a movie or TV show is 4-5 seconds long – even for mainstream traditional media. At this point the 6 second Vine video or (heaven forbid) the 15 second Instagram video is TOO MUCH. Trim it. Make it tiny. "GIFs are the headlines of video," they said, and we all just scan headlines nowadays.
Here's what the kids are watching on Tumblr: I picked a scene from Glee as an example.
No sound. This is a musical performance with NO SOUND. 6 – 8 panels making up a whole scene. Individual panels get re-purposed and people use that content to reflect their emotions online. Instead of an emoji, or a static photo, the future is the GIF. More expressive, more precise. Also sometimes insanely hilarious:
Next up was a panel about Immersive Content and going beyond a screen, which I thought was about something and it was about something else (it happens)…more of a brand and big budget kind of panel…so I wandered the trade show and picked up free pens.
After that I tripped into a chat with some impressive folk: Eric Schmidt (founder of Google), Megan Smith (Chief Technology Officer of the United States), and Walter Isaacson (he wrote Jobs, one of my favorite biographies). This panel was about "innovation" and, you know…stuff. (Can you tell I'm kind of fatigued at this point?) They talked about how giant corporations are not generally at the forefront of innovation, so the U.S. needs to do things like foster entrepeneurs and small business. They asked Eric Schmidt what Google was working on in regards to Artificial Intelligence and he said, "we don't know what 20 years out looks like" and I was thinking YOU ABSOLUTELY HAVE A ROBOT ARMY ADMIT IT, GOOGLE," but hey, maybe that's just me. Women in tech and fostering a love (and not fear) of math and science in young girls is on the forefront of Smith's agenda because 1 in 13 computer science majors RIGHT NOW are women, which is disgustingly low. Other interesting notes: immigrants are more likely to be entrepeneurs so the U.S. immigration policy needs to consider that, and technology sector growth does not decrease jobs, it dislocates them into higher level work, meaning…education had better improve here, too. Good stuff.
Then, in an effort to be first in line for Amy Schumer's talk, I got to head into the panel room early and watch Gina Price-Bythewood speak, the director/screenwriter of "The Secret Life of Bees" and the new "Beyond The Lights." It was neat to hear about her writing process, but I didn't take many notes.
Then I just sat in my awesome chair and waited for Amy Schumer, one of the comedians who has really caught my attention this past couple of years. I find her work on her TV show and her stand up to be really amazingly able to address important, serious issues with a really unique (sometimes risque, I warn you sensitive souls) sense of humor. (Here's a skit…there's language!) Her first movie, Trainwreck, directed by Judd Apatow, debuts this summer. You could clearly tell Amy is a true comedian…because she was hilarious. It was an unscripted interview and the audience asked questions, and she had the entire room laughing (LMAOing, even) several times throughout. She also came across as super down-to-earth, humble, and…basically, she just works hard and it pays off. Easy, right?
Lastly I went to see Hugh Mcleod of Gaping Void speak…he does cartoons. His cartoons are really popular amongst the business community, and his talk was about the importance of art in leadership. In the spirit of my brain breaking down from too much info, I will summarize as thus: art is very important for leadership.
Onward to the last day of Interactive…